The new standard in web push notifications
Webpushr is the web push notification API that developers rely on. All browsers & devices are supported.
Sign Up for Free
Try our demo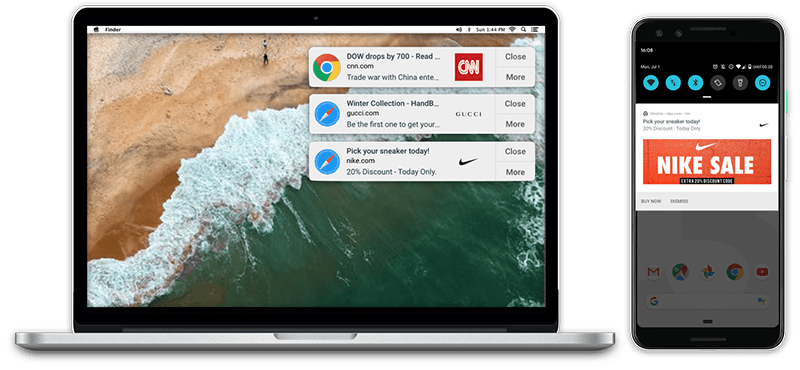 Feature Packed Web Push API
Webpushr is world's best software platform for managing web push notifications. Below are some of the reasons why.
Data Privacy & Ownership
First thing first - your trust is the most important thing to us. Unlike most other services, we never have and never will sell your data to anyone, period.
Non-HTTPS Support
Although web push notification standard does not support non-HTTPS sites - our propietary technology is able to support web push for non-HTTPS sites.
Scalability
Our cloud based platform is reliable, reslient and scales as you grow. We currently support 10,000+ businesses and billions of push notifications.
Powerful User Segmentation
You can create user segments based on location, user interest, demographic information, etc to send highly personalized push notifications.
Conversion Tracking
We enable you to set conversion goals for each push notification. You can also assign a monetary value to each conversion to measure ROI.
Automatic Web Push
You can easily set automation rules to send automatic push notifications. Nudging the customer to maximize conversion has never been more easy.
Apple Safari Enabled
Our platform is world's first to provide push support to all browsers including Apple Safari. Reaching out to Safari users has never been more easy.
Affordable Pricing
We are here to help you grow and be successful - and our pricing model reflects that mission. We offer all features at all pricing tiers.
Simple Integration
We offer simple integration with Wordpress, Shopify, Drupal, etc. Simply copy our code snippet into your website and you are all set to go.
We keep web push simple - as it should be.
Our web console is intuitive and easy to use. We strive to keep the clutter away so you can focus on just one thing - your customers.
Customers